We accept Cash or Credit card.
Reliable and friendly drivers Waiting 24/7 !


Emergency Jump
Start

Are you searching for a " Jump start Service near me? " or perhaps a " new car battery fitting service in Dublin. "

Your in luck, we have service vehicles positioned around Dublin city and wicklow ready to help with your emergency whether it's a homestart, out on the road or in an underground car park! We have the right booster pack to get you started. We also carry a large stock of car batteries ready to deliver and install at your home or workplace throughout Dublin, Wicklow and surrounding areas.

Vehicle jump start service - Jump starts & Replacements 24/7

Fast response times from an Irish business you can trust!


Automotive

Jump

Starts

Do you have a dead battery? Did you forget to turn your car lights OFF? Don't worry, we offer jumpstarts throughout Dublin city and nationwide. We can jump start any car battery. We also have Towing and Recovery vehicles on stand by to provide emergency transport service if your car fails to start.

We also offer on site mobile vehicle battery replacement.

We carry a large range of lead acid, agm and efb batteries. We also do battery registration and resets for cars with bms systems like bmw, mini, vag group etc.

Batteries supplied and fitted to your car at your place or wherever you are stuck.

Mobile Car battery call out Dublin, Wicklow & Nationwide throughout Ireland.


Thank you for visiting our auto jump start service page. We do a free health check of your vehicle charging system with every jumpstart and / or new car battery install!


Our specialist towing and recovery service provides 24 hour emergency auto/vehicle jump start service across Dublin county, Wicklow and surrounding areas. Our goal is to always deliver fast and professional auto jump starts at affordable prices. We want our valued customer, you, to be happy with the jump start service that we have to offer. Our Towing and Recovery team offers 12 or 24 volts battery jump starts, depending on your vehicle battery.

Quick response times. Friendly and efficient service at competitive prices now!


Portable Jump Start:

We use a hand-portable boost battery, equipped with attached cables and charger, that is used similarly to another vehicle's battery. The benefit of using portable boosters is that they may automatically sense the battery's polarity prior to sending power to the vehicle, eliminating the damage that can result from reversing the connection.

Need a jumpstart now in Wicklow or Dublin? Fast and friendly service at competitive prices! Give us a call.


Be Aware of Voltage Problems:

Some jump starts are done with two batteries to provide 24 volts. Vehicles such a large trucks, vans, busses, excavation equipment, or vehicles with diesel engines may use 24-volt electrical systems. They usually have a 24V supply using two 12V automotive batteries in series.

Hybrid vehicles:

may have a very small 12 volt battery system however, the 12-volt system of a hybrid vehicle is only required to start up the control system of the vehicle so we can successfully jump start a hybrid vehicle with our booster packs.





What do we do?
test your battery
check your car's charging system
check for a fault that could be draining your battery
get your battery charged or replace it, if required, so you can continue your journey
What's involved?
Before we start your engine, we'll use Conductance technology to measure the health of your battery. We can get the most accurate reading by testing when your battery is in a 'rested state'.
Because the tester's already pre-programmed with data, we can get an immediate printout of your battery's readings compared with what they should be.
The printout can tell us the condition of your battery. It may say:
'A bad cell': Car batteries contain several 2-volt batteries (known as cells). Unfortunately, if one is defective the battery will need to be replaced.
'Replace battery': Very straightforward; it's clear that the battery's just not up to it anymore.
'Charge and retest': It's possible that your battery failed the initial test through lack of voltage. We'll charge and retest, then check your charging system to see if anything's draining the battery, just to make sure there are no other faults.
'Good, recharge': This means that your battery's within spec; it just needs a recharge. We'll check your charging system to try to get to the bottom of what's drained it, and then give you a jump start. We'll recommend you get a full recharge as soon as possible using a battery charger/conditioner.
'Good battery': There's nothing wrong with your battery. It's within spec and in good condition. Obviously it's still dead, so we'll check your car's charging system and investigate what's caused the breakdown.
To try and avoid flat batteries in the future, here's our quick guide to keeping them running.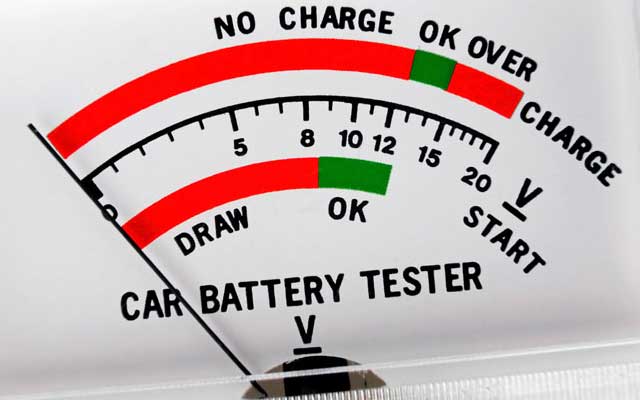 Why do batteries go flat?
There are all sorts of reasons, but the most common are:
a car being left unused for a while, or only used for short journeys
a light being left on
a faulty component
a problem with the car's charging system
a fault with the battery itself
Batteries can fail for other reasons too. Excessive vibration, over-charging, corrosion and extreme heat or extreme cold.
What makes them last longer?
The reason why batteries fail if they're not used, or they're only used for stop-start or short journeys, is that they don't get the chance to recharge properly.

The technical explanation is that this 'under charging' leads to 'sulphation' if the battery voltage is allowed to remain below 12.4 volts. Sulphation is the hardening of the lead plates within the battery and it reduces the battery's ability to accept or hold a charge.

If you do only use your car occasionally and for short journeys it's worth investing in an intelligent / battery conditioner. This can be left connected for long periods without risk of damage to the battery.

Alternatively, you could get a trickle solar charger.

Whether you're at home or on the road, and your battery decides to have a snooze, we will dispatch someone to your location in under an hour, giving you a quick and affordable battery jumpstart service that takes the hassle out of this annoying inconvenience.

A professional and swift service:

Although jumpstarting a car seems to be a simple task, if done wrong it can come with a series of risks including injury to oneself as well as damage to the car. This is why it's best to let a team of professionals handle these situations.

Having a friend or someone who has never performed a jumpstart try and charge your car's battery can be dangerous as car batteries are inflammable and even a small spark can cause a fire. One other accident that may occur is doing permanent damage to the on-board computer simply by using the wrong voltage.

The teams that we dispatch are made up of skilled technicians that will jumpstart your car in a safe manner while also fixing any wires so that this sort of thing won't happen anytime soon.

An affordable battery jumpstart service:

Our professional vehicle battery boost service is affordable and swift. We cover the entire Dublin, Wicklow, m50 and m11 area and because we work out of a few garages throughout the city we have a very quick response time. We can jumpstart any type of vehicle at any time, day or night.

When you need help with a battery boost, a well equipped team of professionals is just what you need. Simply give us a call and we will send a our team to help you get back on the road as soon as possible.